11 Washable paper bags that will never go out of style in 2023
11 Washable paper bags that will never go out of style in 2023
Washable paper bags might sound unlikely, but trust us - it is the real deal. Many of our most popular bags are made from this excellent eco-friendly material, which is attractive and durable. Let's look at the most popular washable paper bag models with
Khang Thanh
.



What is washable paper?
Washable paper is produced from cellulose fiber which is a natural material. There are many different types of washable paper on the market. Washable paper materials come from responsibly managed forests according to FSC standards. So even though it has many qualities of leather, it is 100% cruelty-free, vegan, and sustainable. That means products made from washable paper are sustainable and eco-friendly.
Some first-time customers are amazed that Khang Thanh's bags are made from plants, not animal-based leather, due to how lightweight and easy to clean. Washable paper is the ideal material for tote bags, shopping bags, carrier bags, and backpacks, to name a few.
>>> 8 Interesting questions about washable kraft paper bags




11 Washable paper bags that will never go out of style
Similar to fabric or paper bags,
washable paper bags
have numerous applications. Here are 11 fantastic ways to put your washable paper bags to use.

1. Washable paper tote bag
Are you still storing your items and lunch in plastic or single-use bags? It is time to acknowledge the harmful effects of plastic. Fortunately,
washable paper tote bags
are an excellent substitute.
This tote bag is the perfect-sized bag that you can use to carry all of your items. It is made from a biodegradable and durable material that can withstand being used several times with no problems. This tote bag also features a logo that looks good on any bag you choose.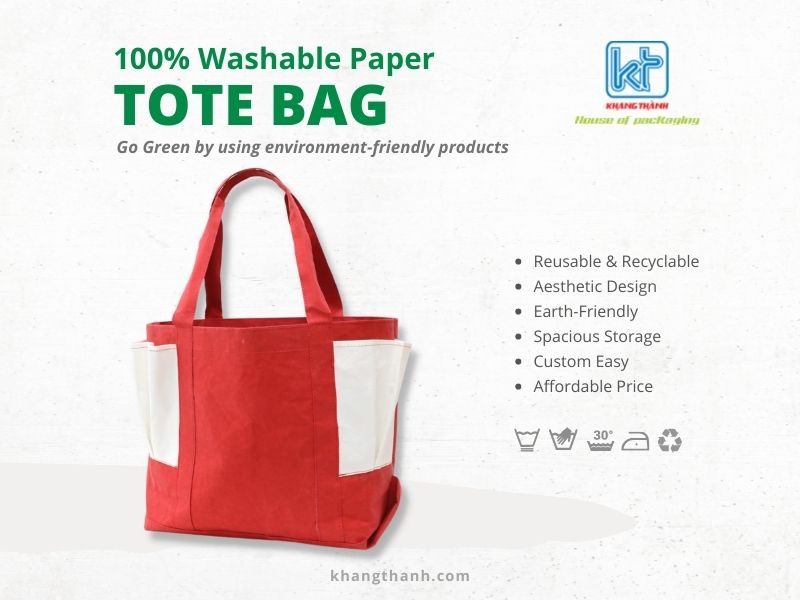 2. Washable paper shopping bag
Reusable grocery bags are becoming more popular. Use washable paper bags for your grocery needs to go green. We can store fruits, vegetables, and sandwiches, even though our lunch is in them. Bags are made of 100% washable paper that combines strength with softness and thickness while boasting a tear-resistant feature. The bag is recyclable, biodegradable, and reusable.
>>> 10 Ideas for reusable Trader Joe's washable paper bags

3. Washable paper duffel bag
You can not beat the convenience of a washable paper duffel bag. When you are traveling, you want to be able to pack as much in your bag as possible without worrying about it getting wet or ripped. A reusable paper duffel bag is perfect for that: your possessions stay safe and sound, while the bag itself is easy to clean. So you can just throw it in the washer when you get back home!
These bags are also great for picnics. You can store all your stuff in one place, and take it with you everywhere. Plus, they are adorable.

4. Washable paper wine bag
Many people think of bringing wine as a gift for their dinner party host, but with this wine bag, you can take it a step further by gifting wine. Bring a reusable wine bag instead of a plastic bag.
Reusable wine bags have been designed with a comfortable and durable material, making them the perfect choice for your event. With the ability to be printed in full color, reusable tote bags are made of tear-resistant paper that is made from repurposed plastic waste. They are not only great for displays but can also be recycled again after use.

5. Washable paper crossbody bag
These crossbody bags are the perfect and practical choice for everyday essentials. It features numerous pockets to store all your belongings, including the inside pocket with a zipper closure. This style is custom printed with your logo. Ideal for traveling to work or school - throw it in your bag and go!

6. Washable paper toiletry bag
Although washable paper bags appear simple, they can be surprisingly versatile.
Washable paper toiletry bags
are also available on the market. Aside from their incredible functionality, these bag designs are stylish. You can easily transport daily necessities such as makeup, stationery, and other items.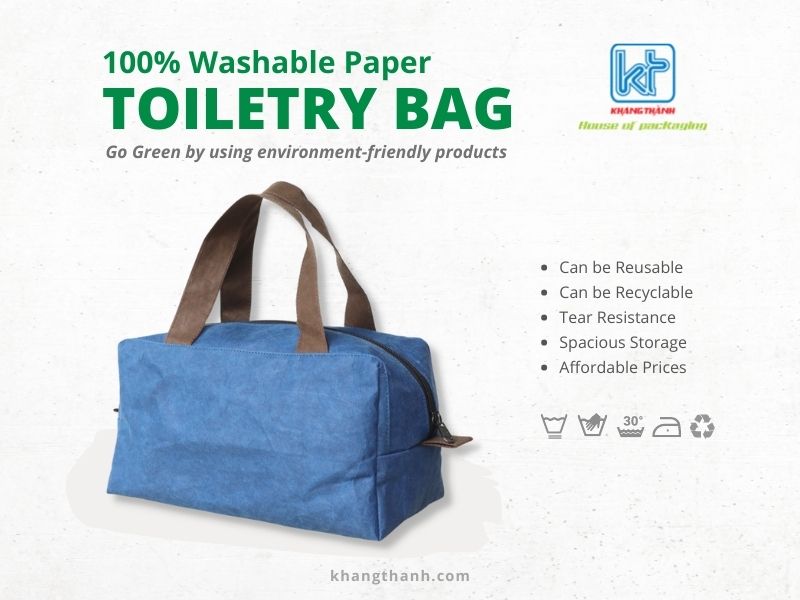 7. Washable paper phone bag
This phone bag is designed to be portable and environmentally friendly, as well as tear and water-resistant. It features a top-loading design that makes it easy to access your phone and other small accessories.


8. Washable paper shockproof bag
This shockproof bag has all the features you want in a simple, reliable bag for school or the office. It is durable and stylish, with a semi-padded bottom for extra protection against kicks, bumps, and tears. Its water-resistant paper material is perfect for storing your laptop, tablet, textbooks, or other personal items.

9. Reusable paper planter bag
Keep your plants in style and shape with this cool planter bag. It is the perfect addition to apartment or house decoration, with a removable top for easy seed planting. Add your logo or personalized text to this beautiful planter bag to impress your guests.
Reusable planter bags could be placed on the floor or hung on windowsills. It can keep plants fresh air, water, and nutrients.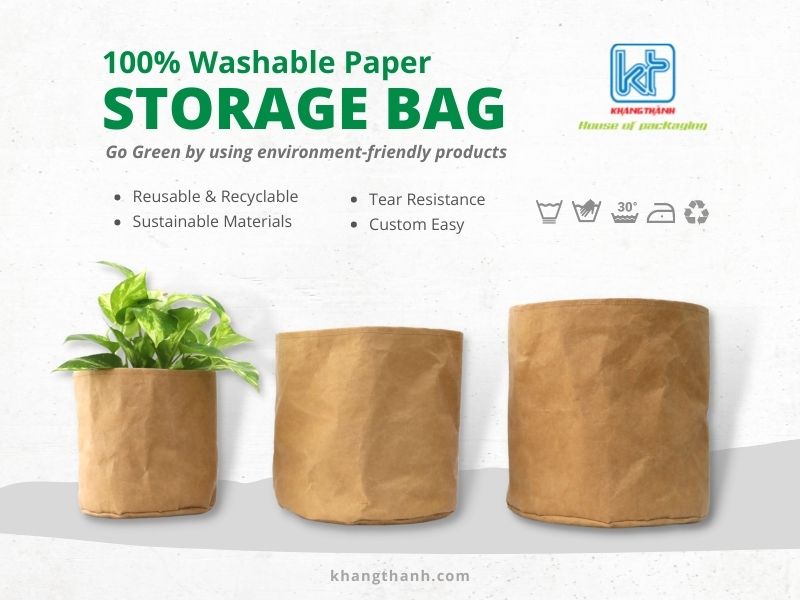 10. Washable paper storage bag
Washable paper storage bags allow you to organize and store your clothes, toys, and shoes. The compact size makes it easy to carry virtually anywhere, while the washable paper makes it an excellent choice for laundry day storage bags.
Several convenient features make this bag great for everyday use: durable tear-resistant material that protects against rips and tears, a handle for easy carrying, and multiple compartments with ample storage capacity each to help keep all your belongings neat.
>>> 8 Washable paper baskets for storage

11. Washable paper backpack
Washable paper backpacks are perfect for school, outdoor and outdoor trips. They have a unique design that makes them multi-functional. The roomy inside for books, clothes, or toys provides your child with sufficient space to carry all the school supplies. The backpack is also tear-resistant, waterproof, and wrinkle-resistant with sturdy construction.
>>> Washable paper backpacks - Your eco-friendly and fashionable companions
Now that you have known everything there is to know about these revolutionary bags, it is time to put them to the test. So, what are you holding out? Take out
your washable paper bag
and get to work.
We would love to learn more about your project. Feel free to reach us to support your brand with the right washable paper products:
KHANG THANH CO., LTD - ​HOUSE OF PACKAGING
Tel: (+84) 77 8878 222 ​
Email: info@khangthanh.com