17 Typical Rigid Box Structures You Can Order in Vietnam
17 Typical Rigid Box Structures You Can Order in Vietnam
In this article, we will walk you through all-inclusive ways to design one of the most sustainable packaging types in the world – a
luxury rigid box
. There are a lot of steps that you must seriously work on when you are about to brainstorm your latest products in your campaigns.
Apart from outlining essential functions like display, store, advertisement, protection, etc., and materials such as wood, paper, fabric, metal, plastic, glass and so on, you also need to advance to the stage of choosing box designs.
Scroll down to explore the easy-to-follow illustration with
Khang Thanh Packaging
:

The premium rigid box solutions from Khang Thanh Packaging

1. Rigid gift box with fully–covered top & bottom
As illustrated in the image, this first type of design comprises two complete parts that 100% cover the inner content. Therefore, it is easy to see there is not much work for the designer team to do since what they need is merely work on the surface of the top cover.
The most important part of this design type is how the two pieces match. The upper part must match seamlessly with the other piece, and the two should be removed hassle-free. The automatic machine provided by
Khang Thanh
will help you meet that requirement with ease.
Tip: Since it is completely covered, end users would thank you a million times if you make a finger hole on the surface.

2. Magnetic gift box designs with partially
The second type comes with a partially covered bottom. The bottom part is obviously bigger and is not fully covered by the top part. Therefore, not only does the upper part need designs, the under box does as well.
As we can see, no finger hole is needed in this type of design since it is easier than type No.1 to pluck. However, the substandard packaging process can raise problems.
The not-up-to-par touching parts of the two make it hard to open or close. Don't worry. Our synchronous machines can help a bunch in avoiding this issue. Since it is partially covered, when you create your artwork, the artwork needs to be applied onto both the top cover and the exposed bottom cover.
>>> How to choose a premium jewellery gift box?

3. Rigid gift box designs with top & bottom covers with sidewall
This No.3
hard box
design is tailor-made for high-end luxury products like gems, jewellery or expensive electronic devices. The cover layer of the bottom box is called a "cap", and right upon it sits the upper cover.
The designs will be applied to the upper box and around the exposed cap. Similar to the second type, we do not need a finger hole on the covers since the lid is easy enough to slide out.
Note: Any poor quality production leads to deformation or dimension mismatch issues.

4. Lid and base gift box with a paper base
As the name suggests, this kind of rigid box has a quite thick base of paper at the utmost end of the lower part. This style is very easy to manage and an amazing display outfit for your products.
Normally, the base is less than 5 mm bigger than the height of the bottom cover. Remember to choose contrasting colours for the top cover and the base to make the base stand out.
Typically, this base is a little bigger than the bottom cover size by <5mm for each line. When we make design, sometimes, we make the paper base with a contrasting colour of the top cover so as to show the base in a proper way.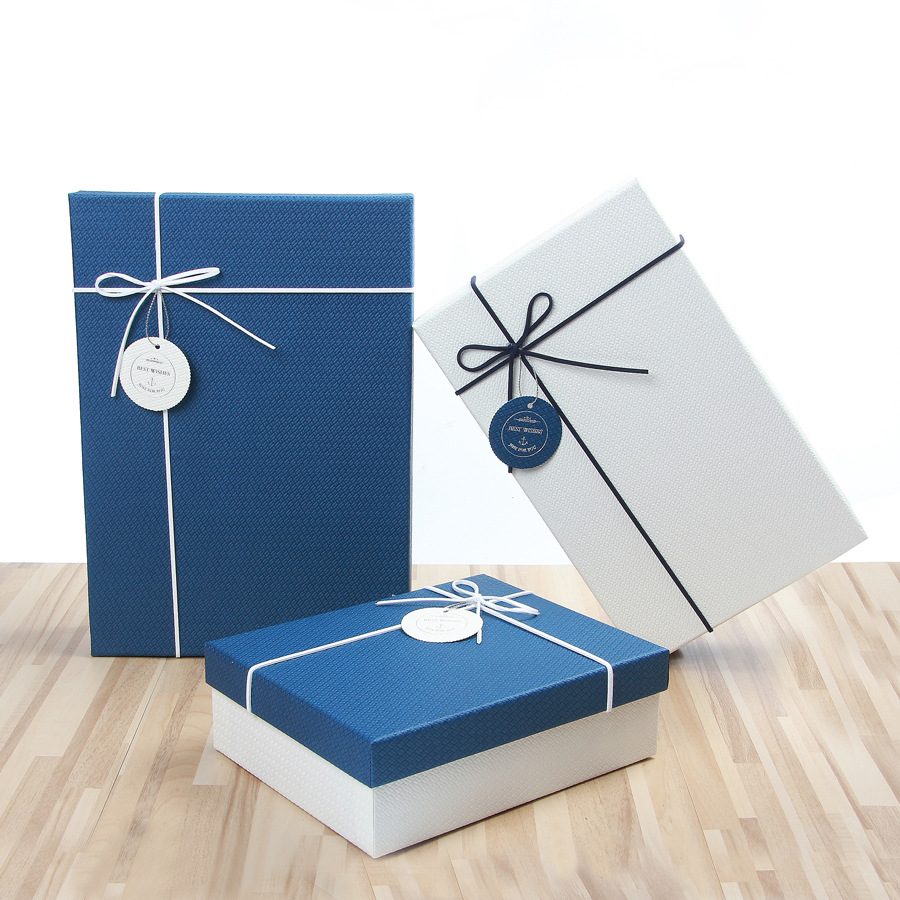 5. Shakable (rotating) cover raphe box
This kind of box contains a shakable cover. There are two parts: one base (the inside box) and the shakeable cover. People usually mistakenly refer to it as a book-style box, yet there is a big difference between the two.
The book cover has two faces touching the inside box, while the Shakable (Rotating) Cover Box has only one, so it can be stretched 360 degrees.
Its most obvious discrepancy from the book style box is that the book style box is with two faces glued together with the inside cover, while the shakable cover box is with only one face glued together, so the cover is able to shake by 360 degrees.

6. Book-style gift box
Let's dig a little deeper into the definition of this
rigid gift box
type.
The book-style box is a kind of box structured like a book. It is composed of two parts typically, one is the inside tray, and another is the book-style cover to enfold it from 3 or 4 faces.
7. Customized book-style rigid gift box
Following the basic principles of the above packaging, you can even make it better and more personalized with your own desired details.
Sometimes, you will find the normal inside cover is replaced with a very thin laser-cut paperboard frame. Sometimes, you will find a plastic tab combined with the inside cover or the exterior cover which will help you to display in retail perfectly.

8. Drawer gift box with multi-chamber structure
There are two different kinds:
One draw box: You can easily pull the drawer from both sides at ease.
Two-drawer box: The drawers can be pulled out at each specific side. Both of them have a fabric piece to serve as a handle. The draw rigid box type makes it possible to contain more than one product in one package and still make it look neat.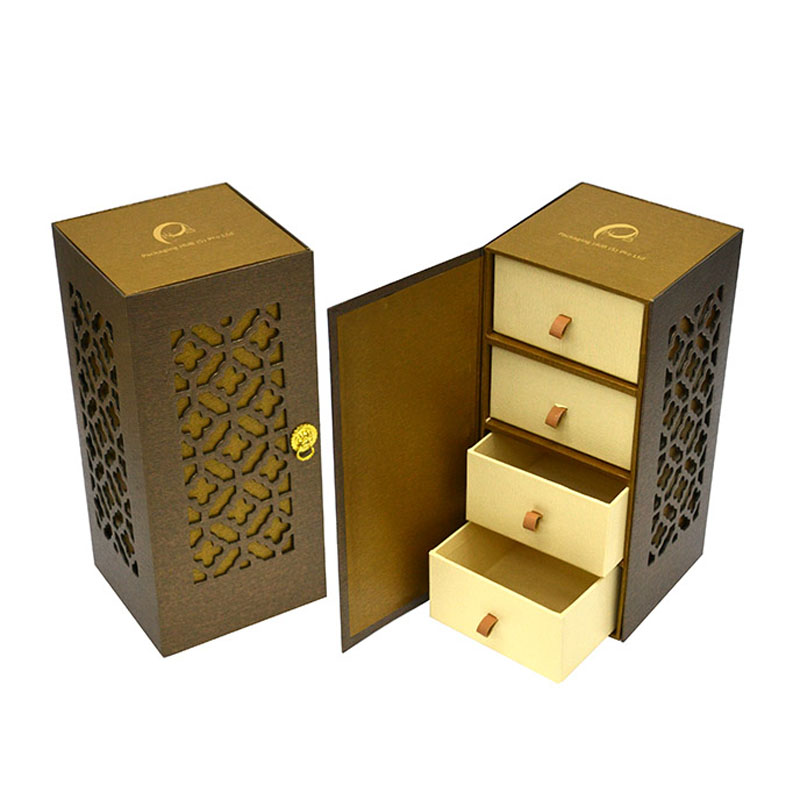 9. Sliding gift box with half-through structure
There is only one difference between the last type of drawer box and this type: The sleeve is open at only one side, not both like the former, so it is dubbed the name "half-through structure".
In the design process, we divide the box into small chambers to make room for different pieces of merchandise in just one box.
>>>
Rigid boxes earn an edge over conventional packaging
10. Drawer gift box with hanger tab
In essence, this kind of packaging is a drawer box (both through and half through the structure) plus a hanger tab at the side.
By adding this piece of pattern, these drawer boxes meet the beauty requirements in retail shops. Besides, to make it look more easeful and satisfying, the fabric is replaced with a subtle finger hole for users to open it more easily.
At the same time, we tend to make a window on the sleeve to make the inside content be more attractive.
>>> The top unique drawer box designs for gifts

11. Drawer box with special shape sleeve
In an attempt to kill the boredom that the rectangular and square paper sleeves bring about, we come up with the drawer rigid box with a special shape sleeve.
Everything that is not ordinary shapes is strongly encouraged, like somehow crooked or curved sleeves. Also, we can design some window patterns to reveal the goods and let them come closer to shop visitors.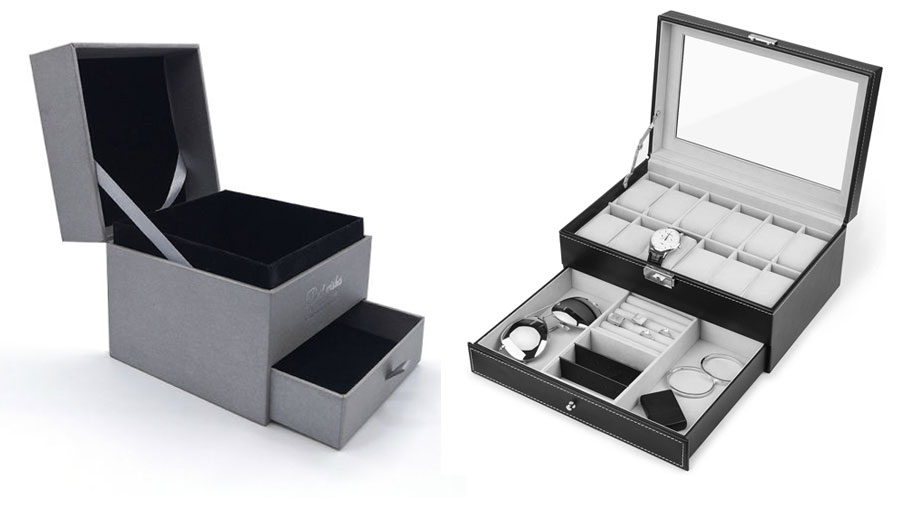 12. Rigid gift box with metal connection
This Paper box is one of the most noticeable box design options in the packaging world. This kind of box also includes top&bottom covers. Nonetheless, the way they connect to each other is noteworthy.
In concrete, the two pieces are attached together using a metal joint. The mental joint adds more strength for the linking part, so the top cover is able to stand still more easily without falling down.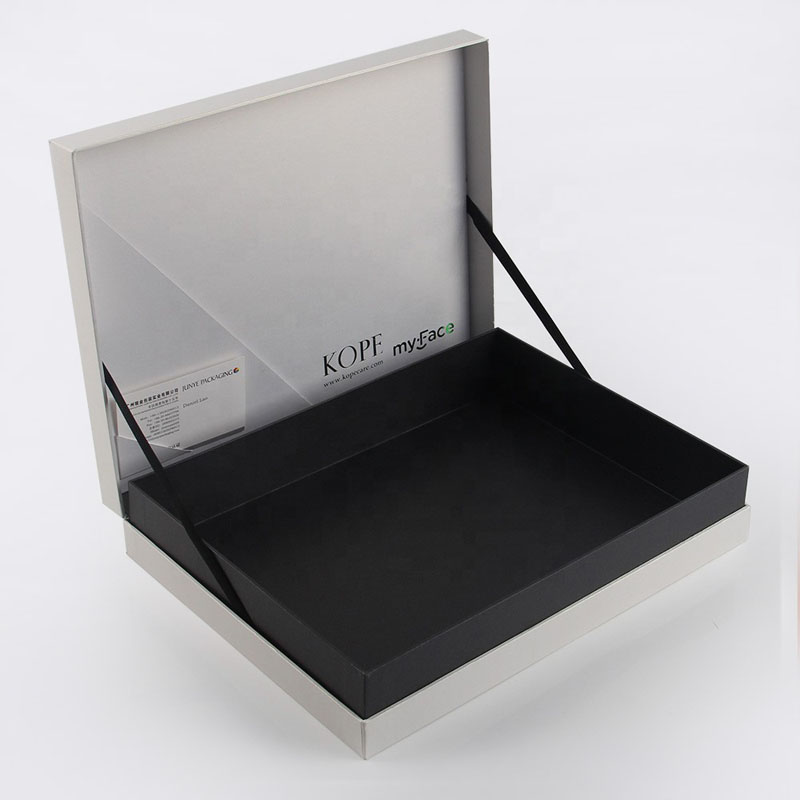 13. Gift rigid box with paper connection
Unlike the metal joint, the paper joint connection is more suitable to apply for delicate gifts such as gift boxes, personal care product packaging, tea gift boxes, suit boxes, light bulb boxes, etc.
>>> Recommended 10 popular high-quality watch box models

14. Foldable gift box
This is the solution for suppliers and brands to cut costs in storage and freight. This style is suitable for food, gift, and shoes (of all types).
This type of packaging requires thin paperboard to have the cover slotted. If it is too thick, the box is breakable and will not meet the need for folding. This is an important point that the design team must pay attention to in the brainstorming process.
Put simply, the interior surface is designed with multiple slot lines and is structurally glued together. These slot lines and glued parts make these boxes foldable, which helps save lots of room and time and energy for shop assistants.

15. Round rigid box
The round box is the boxes with round shapes; we call them cylindrical boxes. Typically, it is composed of one piece of the hat on top and one piece of the body on the bottom.
The body height depends on your requirement. You can go to our free structure design so as to decide the final body height and hat height. The hat can be with a raised edge or without.
It is a very traditional box structure and is widely used for gift boxes, candle boxes, candy boxes, wedding boxes, etc.
>>>
Make your products look more compelling with rigid boxes

16. Rigid box with window (PVC / PET)
All boxes with the window patching are in the category of "box with window". This type of packaging application: includes apparel boxes, automotive product packaging, F&B, electronic devices, etc. PET or PVC sheets are often chosen to be window covering.

17. Custom shape boxes
We offer a service by which you can tremendously stir up your imagination by combining those mentioned typical box structures with irregular shapes.
No matter what final custom structure you finalize, it will become more or less the symbol for your brand. Let the packaging (especially
luxury rigid boxes
) tell your own voice!
Khang Thanh -
The printing and packaging manufacturer in Vietnam
specializes in producing luxury paper bags, cardboard boxes, rigid gift boxes, cardboard hangers, POSM and so on.
Contact us to support your brand with the suitable packaging solution:
KHANG THANH - ​HOUSE OF PACKAGING
Tel: +84 (0) 77 8878 222 ​
Email: info@khangthanh.com